Picture of Quick Help dialog: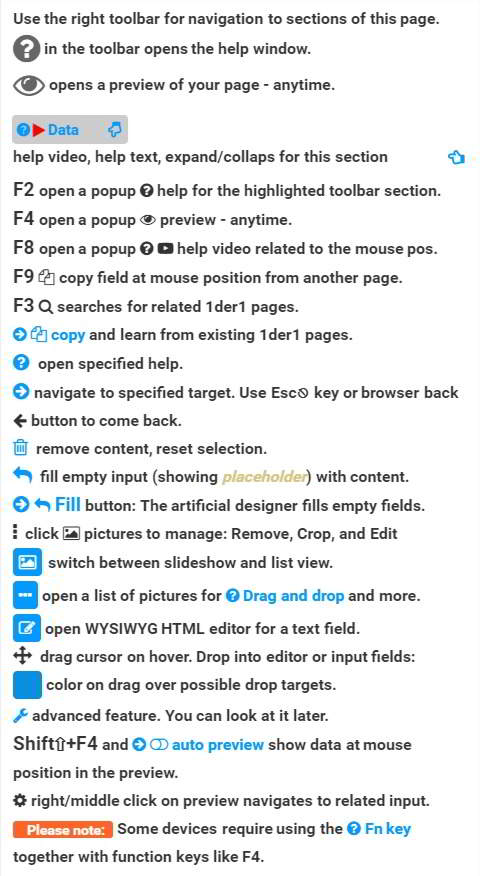 Video content - list of annotations:
Click the link at the top of the Build page to open the Quick Help dialog.
You can watch a help video - this video - about the dialog by clicking the video help symbol.
The toolbar offers quick navigation to sections and shows position information.
You can open a help window and a preview of your page.
Every section lets you open a help video and help text about the section. You can expand and collapse the section.
The F2 key opens a popup help window for the indicated toolbar section.
F4 opens a preview popup, whereas the mentioned preview symbol opens a new tab for each preview for comparison.
F8 opens a help video for the field at the mouse position.
F9 fills the field at the mouse position with data from another 1der1 page.
F3 searches for 1der1 pages using the functionality of the field.
You can select data to copy from other 1der1 pages.
Follow help links for specified information.
Navigate to parts of this page and come back.
Remove content. Reset selections.
Fill empty fields with content.
The Fill button at the top searches for your content on the internet and collects it into libraries, filling empty fields with content.
You can click every picture for removal or maintenance.
You can maintain slideshows by adding, rearranging, and removing slides.
Switch between slideshow and list view.
Close to content fields, you find buttons to open lists of pictures suitable for this field.
Text fields have an associated WYSIWYG HTML editor.
The editor and input fields signal their readiness for accepting dropped content.
You can use advanced features when you are more familiar with their functionality.
Shift+F4 opens the preview popup like F4 alone but highlights the outcome of the input field at the mouse position.
If you switch on "Auto Preview," every change will preview and highlight automatically.
In the preview, right-clicking will navigate you to the related input field.